Ars looks back at the decade in Ubuntu, from Warty Warthog to 25 million users worldwide,by

Oct 22 2014, 9:00pm EDT
In October of 2004, a new Linux distro appeared on the scene with a curious name—Ubuntu. Even then there were hundreds, today if not thousands, of different Linux distros available. A new one wasn't particularly unusual, and for some time after its quiet preview announcement, Ubuntu went largely unnoticed. It was yet another Debian derivative.
Today, Canonical, the company behind Ubuntu, estimates that there are 25 million Ubuntu users worldwide. That makes Ubuntu the world's third most popular PC operating system. By Canonical's estimates, Ubuntu has roughly 90 percent of the Linux market. And Ubuntu is poised to launch a mobile version that may well send those numbers skyrocketing again.
This month marks the tenth anniversary of Ubuntu. As you'll soon see in this look at the desktop distro through the years, Linux observers sensed there was something special about Ubuntu nearly from the start. However, while a Linux OS that genuinely had users in mind was quickly embraced, Ubuntu's ten-year journey since is a microcosm of the major Linux events of the last decade—encompassing everything from privacy concerns and Windows resentment to server expansion and hopes of convergence.
Warty Warthog: What's an Ubuntu?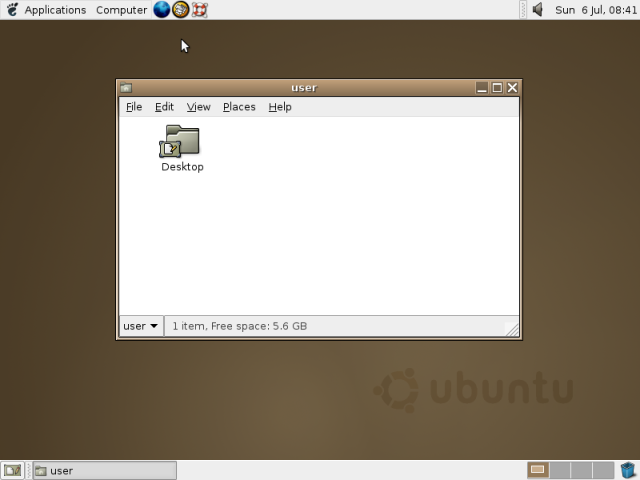 Starting right from its launch, Ubuntu took a different approach to Linux, one that was perhaps best defined by its slogan at the time: "Linux for human beings." The word Ubuntu itself recalls the same idea, coming from the South African philosophy where it means, literally, "humanness." More broadly translated, it's "humanity toward others."
This distinction is more than simple semantics. It's what makes Ubuntu unique in the annals of Linux history.
The name, combined with the slogan, set Ubuntu apart from other Linux distros of the day. Its competitors tended to focus more narrowly on what developers and enterprise users wanted rather than what "ordinary" desktop users might need. Fedora, for example, takes a very different approach, aiming for users who are also developers and will contribute back to open source.
The focus on "Linux for human beings" set the tone and direction of the Ubuntu project from the beginning. Ubuntu never chased developers. It also did not seem interested in the server market. Instead, this distribution was aimed squarely at desktop users (of whom there were significantly fewer in October 2004) and Linux newcomers. The idea was to win over "ordinary" users from Windows.
Ubuntu was started by Mark Shuttleworth, who sold his company Thawte to VeriSign in December 1999 for $575 million. After a short vacation in space, he founded Canonical Ltd and started work on Ubuntu. Shuttleworth's announcement of the very first Ubuntu release defines the fledgling project as a "new Linux distribution that brings together the extraordinary breadth of Debian with a fast and easy install, regular releases... (and) a tight selection of excellent packages."
Those goals—fast and easy to install, regular releases with support, and a wide range of applications available—are the basis of what powered Ubuntu to the top of the Linux charts. Perhaps the most significant of these three goals, though, especially in terms of Ubuntu's focus on new, beginning Linux users is the first one: making Linux easy to install.
By 2004, Debian wasn't difficult to install if you had prior experience with Linux. For someone accustomed to the installation process offered by Windows XP or Mac OS X, however, it was, at the very least, intimidating. Ubuntu on the other hand was just as easy to install as Windows or OS X. You inserted the CD, it booted, and you double-clicked the installer. When prominent Apple supporter Mark Pilgrim switched to Linux, he chose Ubuntu. Pilgrim joked that it was the African word for "can't install Debian."
Dapper Drake: Rising to the top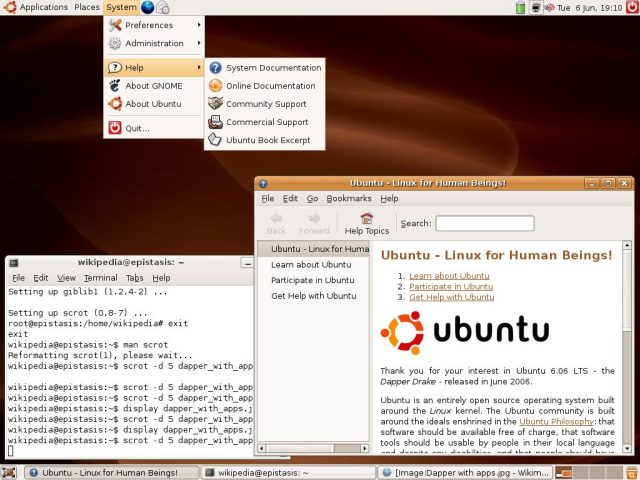 Ubuntu stuck to its every-six-months plan, churning out progressively more polished releases from 2004 on. In ten years, it has only missed a release deadline once—6.06 Dapper Drake in 2006.
By 2008, Ubuntu established itself as the distro of choice for "switchers" moving away from Windows or OS X or even other distros lacking the ease of use Ubuntu offered. Ubuntu put a friendly face on the otherwise cryptic world of desktop Linux. It offered a simple installation process, the promise of easy updates, and a great selection of applications all available at the click of a button in the Ubuntu Software Center. In short Ubuntu achieved its goals.
Even those who don't like Ubuntu's take on the Linux desktop benefited from it over the years, as many of its defining characteristics, particularly the installation process and focus on a well-designed desktop experience. These traits became a priority in other projects, and the result of Ubuntu's efforts rippled out through the wider Linux world.