Ubuntu v iTunes: the music playoff for Apple phobes
Rhythmbox, Banshee, Daemon unleashed
Best of Linux
With Ubuntu 10.04, Canonical delivered a good-looking Linux distro that just works. Mark Shuttleworth's outfit has put together an impressive user interface to solve its famous
bug number one
[1] - luring people away from Windows.
But good looks and great hardware support are just the beginning. If Ubuntu really wants to help people escape Windows, it's going to need to offer the whole package - great Linux applications to replace and improve on the apps Windows users are accustomed to using.
Unfortunately, the best apps aren't always the defaults that ship with Ubuntu - or any other distro, for that matter.
This article is the first in a series that looks at Linux applications – those on
Ubuntu in particular – and how they compare to what's available on Windows and OS X, which have been out there longer, are more polished, and have a larger number of users.
The focus will be on multimedia apps in particular – audio, video and photo – along with back-up services.
I'll be focusing on Ubuntu because Canonical is specifically hoping to lure Windows and OS X users away.
To kick things off, I look at one area where Linux has an embarrassment of riches – music players. Whether you're looking for a player with features that puts Apple's iTunes to shame or just a bare-bones play/pause button, there's something that will work for everyone.
First, some parameters. I'll be ignoring things like audio codecs because, sorry to say, codecs are a subject that simply doesn't matter to the ordinary consumer. Also, if a music player doesn't support MP3s, then it's just not a music player for the ordinary PC users.
Similarly the focus will be on GNOME apps. There's nothing wrong with other desktops and apps written for them, but Ubuntu ships with GNOME and KDE apps have a huge overhead before they'll run in GNOME.
---
Rhythmbox
You get the Rhythmbox music player is out of the box in Ubuntu and just about every other GNOME-based distro, so this is a good place to start.
Rhythmbox was inspired by Apple's iTunes app. But thanks to a robust plug-in system, Rhythmbox is actually capable of much more than Apple's jukebox software.
Rhythmbox is the default music app for most GNOME users for good reason – it has all of iTunes features such as smart playlists, iPod integration, and several online music stores. You can search for, buy and download music and sync it to your iPod with a few clicks of the mouse.
It's the Ubuntu Music Store feature in Rhythmbox that's gotten a lot of attention with the release of 10.04. Why? If you frequently buy digital music through iTunes you can pick up right where you left off with Rhythmbox.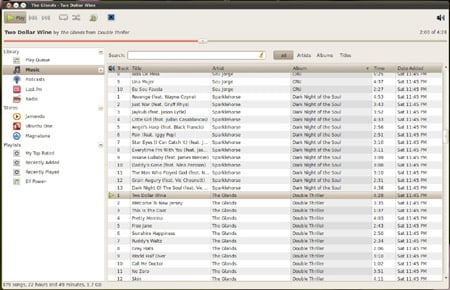 Inspire by iTunes, enhanced by plug-ins - Rhythmbox
While the Ubuntu One store isn't quite as well-stocked as Apple's, it makes an acceptable replacement. Rhythmbox also supports the Magnatune and Jamendo services.
So it replaces iTunes. Is that it? Hardly. Rhythmbox has dozens of extras. It integrates with Last.fm. It can tune in to internet radio streams, grab song lyrics, update your IM status, and much more.
If you're coming from Windows and looking for something to replace iTunes, Rhythmbox is probably your best bet. Rhythmbox makes a good, all-around music player with all the features most users are likely to want wrapped in a fairly simple interface.
On the downside, Rhythmbox can be slow on older hardware, lacks customization options compared to other players, and might be more than some people need.
---
Banshee
If Rhythmbox leaves you wanting, you might like Banshee. In fact, there have been rumors Banshee may replace Rhythmbox as the default music player in the next version of Ubuntu. Whether or not that happens, Banshee is still a very capable music player and well worth checking out.
Banshee looks and acts a bit like Rhythmbox, and if you've used Rhythmbox, you can use Banshee.
In addition to features like smart playlists, built-in Last.fm support and the ability manage music on your portable players or phone – though the iPod support was buggy in our testing – Banshee offers Wikipedia access and can search for videos of your favorite artists.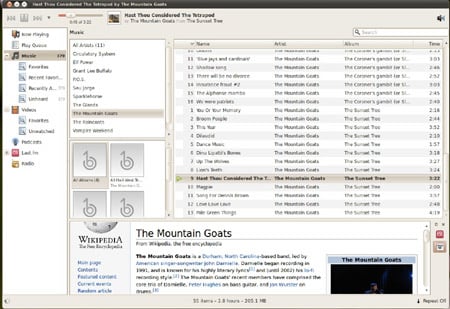 Banshee: the kitchen sink of music players
Another thing Banshee has that you won't find in Rhythmbox is a video manager. Just like iTunes, Banshee can organize and play your video files. For some, that's moving beyond the music player genre and into bloat, but for others, it may prove a must-have feature.
Banshee is the kitchen sink of music players, if someone has thought of a feature, it's probably in Banshee or on the to do list and for those that want the kitchen sink, well, now you can have it.
The player's main downside is that it requires Mono, which means installing some extra software. It also may be overkill if you just want to listen to music without all the bells and whistles.
---
Music Player Daemon
For those that think iTunes is bloatware and have always preferred WinAmp or foobar2000 on Windows, meet the Music Player Daemon.
Music Player Daemon is what it sounds like: a bare-bones background application that plays music.
MPD, as it's often called, is popular with some Linux fans because it's a great example of doing one thing well – playing music.
But of course, you'll also want to control your music while it's playing. For that, you need another application, something like the venerable
Sonata
[2] or the
Gnome Music Player Client
[3], which offer the basics without all the "bloat."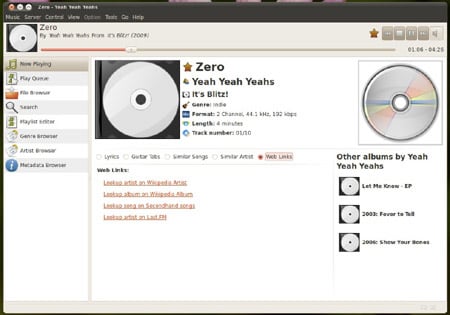 Gnome Music Player client in controls while you spin
If you're on an older system, or you just like to keep your apps lean and fast, Music Player Daemon is an easy way to do it – it's simple and no extra bells and whistles means you won't use half your RAM just to listen to a few songs.
Unfortunately, MPD and its accompanying control apps can be a bit awkward when it comes to managing a huge library of music.
Best of the rest
Still haven't heard of a player that's music to your ears? Well, there are literally dozens of Linux music players out there. Here are a few other options well worth investigating:
Exaile
[4],
QuodLibet
[5],
Audacious
[6],
Songbird
[7] (technically no longer developed, but still available) and, if you're will to install the necessary
KDE components, the ever-popular
Amarok
[8].
So which Linux music app is the best? Well, that's up to you. There is no such thing as the best piece of software, just the one that's most suited for your needs.
When it comes to music players, Linux doesn't just stack up well against the competition, it's actually well ahead of it, offering features you won't find on other platforms.
In this case, Ubuntu's default Rhythmbox offers everything those switching from Windows or OS X are likely to want, but as always there's an option to fit just about any need. ®
Links
Source:
http://www.theregister.co.uk/2010/06/18/linux_versus_mac_windows_1/page2.html
Decibel Audio Player
My current linux audio player is Decibel. It is fast, accurate, and simple to navigate, has an equalizer, and uses low resources.
Decibel Audio Player is a
GTK+
open-source (
GPL
) audio player for GNU/Linux. It is very straightforward to use thanks to a clean and user-friendly interface. It is especially targeted at
Gnome
and follows the
Gnome HIG
.

Decibel Audio Player is built around a highly modular structure that lets the user disable completely the features he does not need. A disabled feature uses absolutely no memory and no processor time.
Decibel Audio Player is a
real
audio player and does not include features that are not meant to be part of an audio player. These features, such as tagging files or burning CDs, generally have a better support in dedicated software. If you are looking for an audio player than can make coffee, then you should stay away from Decibel and give a try to other players (e.g.,
Amarok
,
Exaile
).
The latest version is
1.04
, you can get it from the
download
page.
Performance Results
| Player | Version | Startup Time | RAM Usage | CPU Usage |
| --- | --- | --- | --- | --- |
| Amarok | 2.0.2 | 3.3 seconds | 73.6 MB | 21.78 seconds |
| Banshee | 1.4.3 | 3.1 seconds | 51.5 MB | 47.05 seconds |
| Decibel Audio Player | 1.01 | 1.1 seconds | 28.1 MB | 36.55 seconds |
| Exaile | 0.2.99.3 | 3.7 seconds | 64.9 MB | 47.03 seconds |
| Listen | 0.5 | 6.5 seconds | 115 MB | 44.02 seconds |
| Quod Libet | 2.0 | 3.9 seconds | 60.9 MB | 40.38 seconds |
| Rhythmbox | 0.12.0 | 2.5 seconds | 39.9 MB | 39.09 seconds |
| Songbird | 1.2.0 | 4.2 seconds | 74.5 MB | 1 mn 31 seconds |
Note: The CPU usage when playing the benchmark track from the command line with GStreamer (using gst-launch) is 35.47 seconds.
.